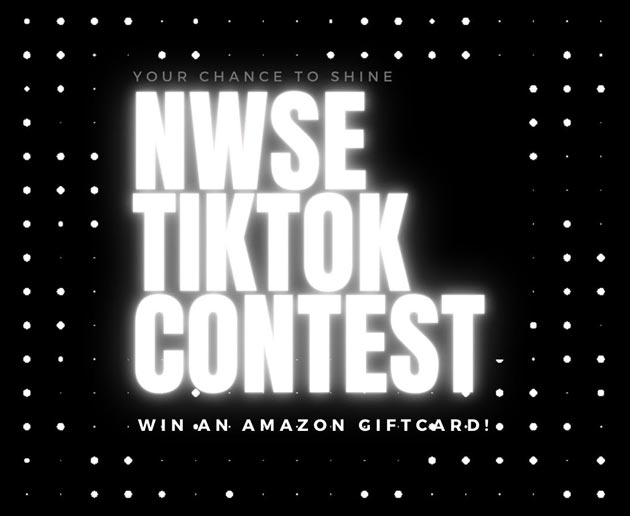 Dance, sing, get inspired and create the ultimate NWSE TikTok video about your exchange experiences in the USA to share with the world!
Submit your TikToks by January 5th for a chance to win a $50 Amazon gift card! You can submit as many videos as you would like!
Contest Categories:
Holiday Hijinks - Exchange Edition
Play a version of "two truths and a lie" and tell/show us what it's like being an exchange student in the USA during the holidays - for example, include two facts and one myth that most Americans aren't aware of! Be creative and share your unique study abroad experience with the world.

Tag #NWSE on your post!
Time to Have Fun
Get creative and have fun whether that means singing, dancing, magic tricks, any other (hidden) talent... Let's keep each other entertained and make the best of this current time.

Tag #NWSE on your post!
Video Requirements:
Must relate to the Holiday Hijinks - Exchange Edition or Time to Have Fun theme
You must be featured in the video. Bonus points: if you include your host family
IMPORTANT: please only use first names and do not include your host family's address or name of the city you're living in.
Must be at least HD 720p; video from a video/digital camera or smartphone is best
Must not contain any copyrighted material
For background music, we recommend these websites:

Creative Commons
YouTube Music Policies

Please only use music that is viewable worldwide.
Must be in good taste and not depict inappropriate activities, images, or behavior
Community guidelines for videos: This video platform provides NWSE community members the opportunity for conversations about their experiences in ways that are positive, encouraging, and constructive. To ensure that everyone in the NWSE community always feels welcome, safe, and respected, please note the following community guidelines/terms of use: Videos with content that we believe may discourage sharing and communication, discriminate against, attack, insult, threaten, troll, shame, bully, or belittle others well as rants are not allowed.
Submit your video:
We look forward to sharing your exchange experiences with students and families around the world!
Your NWSE Team
NorthWest Student Exchange
4530 Union Bay Place N.E., Suite 214
Seattle, WA 98105 U.S.A.
Phone: (206) 527-0917
www.nwse.com
By submitting any video content to NWSE, you specifically grant NWSE a non-exclusive, transferable, royalty-free, worldwide license to use said content, which may include public relations or other NWSE-related purposes.